Cashless Payment Technology is Helping Business Thrive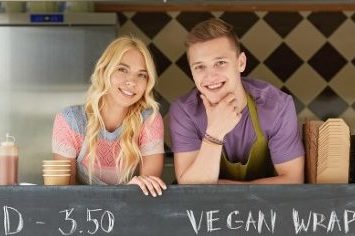 Cashless Payment Technology in Helping Business Thrive
The days when a trip to the ATM was compulsory before strolling to your local market are numbered. Instead small businesses now find themselves faced with the new breed of "cashless consumer", and adapting to suit.
According to a recent survey by the RFi Group, 32 per cent of Australians believe they can go cashless. Fortunately, the advent of low-cost and low-fuss technology allows local businesses, including sole traders, to sell their products and services quickly and easily, whether it's a small item or a more expensive impulse purchase.
A Shift In Mindset
Michael McQueen, retail trend forecaster and bestselling author of How to Prepare Now for What's Next, says small businesses have traditionally avoided cashless transactions because options were limited and merchant fees were often high.
"However, with the multitude of merchant options now available and costs coming down, it is feasible, profitable and even essential to offer cashless transactions on even small-priced items," he told SmartCompany.
"It has required business owners to change their paradigm about cashless transactions and, to their credit, many have."
McQueen says small businesses need to be able to become more agile when it comes to payments, or they simply won't survive.
"Businesses that still see cashless trading as a privilege they extend to high value sales and customers will continue to be left behind – becoming as out-of-touch as the paradigm driving their approach," he says.
"Within a few short years, accepting cash only will indicate little more than that you are trying to dodge tax because there will be no other legitimate reason to holding this stance."
Opportunities Galore
McQueen says adopting varying payment technologies will open up more opportunities for growth but also help small businesses retain their local flavour.
"The biggest opportunity is that cashless transactions encourage more spontaneous spending," he says.
"There is no need for technology use to come at the cost of service levels and a sense of local connection. If the transaction is seamless, easy and fast, this frees up businesses to focus on engaging, serving and delighting their customers rather than simply transacting with them."
Nate Thoreson is the owner of small Melbourne-based business St Kilda Rickshaws, which hires out rickshaws for private events such as weddings and corporate public events including the Australian Open tennis tournament.
He says customers are very comfortable with cashless money transfer systems and it has now become their primary mode of payment.
"Four years ago, most of our private event hire jobs were settled using cash – now it's the opposite, most of our events are paid for using credit card," he says.
"Apart from being easier as people don't have to swing by the ATM anymore, it really helps customers understand their spending habits and also find opportunities to improve their budgeting."
Let's Not Forget The Data
Using payment technologies offers traders more information on their customers than ever before. This means business owners can use data to make their businesses more discoverable to the right customers via other low-cost platforms, such as social media.
"Beyond encouraging increased spontaneity and discretionary purchases, the coming years will likely see small businesses be able to access data on consumer spending patterns that have previously only been available to large-scale businesses," McQueen says.
"Accessing and utilising this is not complex of expensive – it just requires knowing where to look and being willing to invest the time/energy to do so."
The Face of the Future
McQueen says the biggest trend in the payment space in the short to medium future will be that of biometric payments.
He says Alipay in China have begun trialling a system where customers literally 'pay by smile' – a register recognises their face and charges a transaction to the credit cards stored again their Alipay account.
"Amazon's recently-launched Amazon Go stores also offer an exciting insights into the future of retails/grocery transaction with their stores that automatically tally a customers shopping cart as they stop removing the need for cash registers, check outs or a transactional interface at all," he says.
Thoreson says his company is always looking out for new tech to make their operations more streamlined and profitable.
"As technology moves and changes so quickly, it's important to keep an eye on what's happening," he says.
Source: Smart Company April 10th, 2018
Enquire now about our cashless payment solutions!