Consolidation looming for lenders, says Fiserv boss Kees Kwakernaak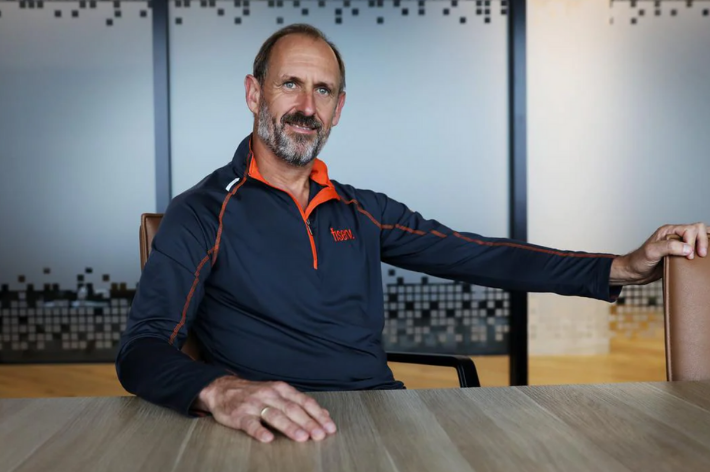 Consolidation looming for lenders, says Fiserv boss Kees Kwakernaak
Story by Joyce Moullakis
Fiserv's local boss Kees Kwakernaak expects another wave of consolidation in the banking sector, as evolving technology triggers more change and scale and customer experience becomes increasingly important.
Mr Kwakernaak, head of Nasdaq-listed Fiserv's Australian and New Zealand operations, sees further banking rationalisation and marked changes across the payments sector over the next four years.
"You get sort of these plateaus then you see another (consolidation) wave again, and that's happening in a lot of countries and there is no doubt we are going to see that here," he said.
Mr Kwakernaak added that it was unlikely Australia would still have about 65 smaller banks in the future, and highlighted the experience in the US where the number of community banks had halved in a few years.
Fiserv — which has a market capitalisation of $US82.9bn ($108.7bn) — is a global payments and financial services technology group that processes about one in eight transactions in Australia.
Already this year, Bank of Queensland has agreed to buy ME Bank for $1.325bn and renewed debate has surfaced over whether Suncorp will sell its bank.
At the smaller end of the sector, in January Teachers Mutual Bank signed a memorandum of understanding with authorised deposit-taking institution Pulse Credit Union for a merger.
Mr Kwakernaak said he didn't expect further rationalisation in the Australian market to deter new non-bank players from entering Australia, particularly those that "play close" to the ­customer.
He noted banks were trying to keep a lid on costs but also working out how to invest in improving interactions with customers.
"It will be hard for many of them to continue to invest in the legacy (systems), but then also in the new customer experience," Mr Kwakernaak added.
He believes consumer habits and technology uptake during COVID-19 has underpinned fundamental and structural change in the payments market, with customer experience a key battleground.
"Some people say that COVID-19 has fast-tracked everything by three years … I'm not sure that is true.
"We've all just seen some change that we would not have expected and in particular around the mix," Mr Kwakernaak said.
He highlighted the unexpected take-up of QR codes and consumers having many more options in the way they shopped and paid.
"I would not have thought that QR would be a real option in Australia 14 or 15 months ago," he said.
"Even though it works well in Asia and makes a lot of sense, I think we were wrong on that because the convenience of the QR code is clearly there and again it's a habit."
Mr Kwakernaak also pointed to the NSW government's vouchers given to households to stimulate dining and recreation spending, which were administered by a phone app or website, as highlighting how payments were changing.
He sees technology being used by banks to facilitate "hyperpersonalisation" for customers and more collaboration between players. "Open banking will also allow the banks a lot more to collaborate," Mr Kwakernaak said.
"I actually think we are going to move a little bit away from that disruption stage to more collaboration.
"Technology is going to make that easier."
In three to five years, he expects more real-time payments will occur between businesses and in business-to-customer segments, rather than staying focused on person-to-person transactions.
Fiserv delivered the centralised infrastructure that supports the real-time New Payments Platform locally, in partnership with SWIFT.
Mr Kwakernaak's comments come against the backdrop of separate reviews of the payments sector by the Reserve Bank and Treasury.
The latter is due to report to the government this month.
"We are not looking at a broken system, so I think it will be more about fine-tuning than wholesale change," he said of the Treasury review.
In the buy now, pay later sector, competitive dynamics are changing after giant PayPal unveiled its "Pay in 4" instalment option.
Commonwealth Bank is also getting more involved after last month announcing a bigger push into buy now, pay later to give retailers a much cheaper and ­direct instalment payment option.
Mr Kwakernaak said the developments would enable large sections of both companies' customer bases to access the platforms, and probably change broader pricing to merchants.
"That will be a good test of the loyalty towards some of the other schemes," he added.
In December, Fiserv outlined an agreement with Bank of Queensland covering card issuing and management to support the bank's BoQ and Virgin Money Australia brands.
Fiserv — which took over First Data in a $US22bn deal two years ago — last month announced a bolt-on acquisition of Pittsburgh, Pennsylvania-based technology company Pineapple Payments.
Source: The Australian. 12 April 2021.