Is the end of the cheque finally in sight?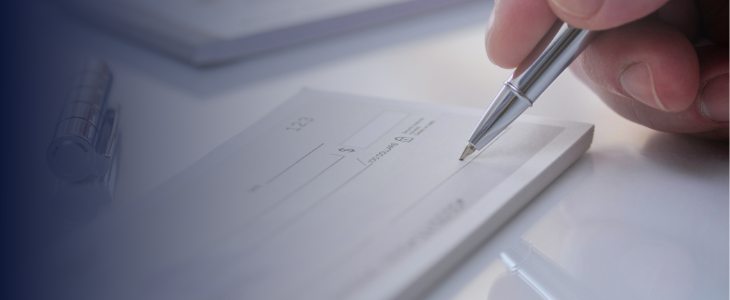 Real-time, data-rich payment technology is transforming the way people pay for goods and services, consigning the once-popular paper cheque to dwindling niche sectors.
The end could finally be in sight within five years if cheques' current decline in popularity continues, according to an AusPayNet report[1].
"Cheques are just clinging on," says Grant Halverson, the chief executive of banking and payments firm McLean Roche Consulting.
"Most consumers have stopped using them except for some very infrequent types of payment. The biggest users are government departments, both state and federal, so when they'll get rid of them cheques will be gone."
Work has continued to amend legislation that specifies payment types, such as replacing the Pay Doctor via Claimant Cheque scheme in the Health Insurance Act with an automatic electronic funds transfer.
"Our analysis is that this will solve almost 75% of the government-related cheques issued," according to AusPayNet.
COVID-19 accelerated digitisation of payments
The COVID-19 pandemic has also accelerated the trend away from cheques as lockdowns prevented in-person transactions and heightened the need to quickly distribute government subsidies.
Services Australia was the first government department to send relief payments in real-time via BPAY Group's Osko system to those affected by the 2019-20 summer bushfires and COVID-19 disaster payments in 2020-21.
Osko allows payments to be made in seconds, including on weekends, and also includes far more detailed data about the payment.
These were key attractions of cheques in a largely pre-digital age, according to the RBA[2], given cheques could be written on a 24-7 basis and could include information (such as an attached invoice) to accompany the payment.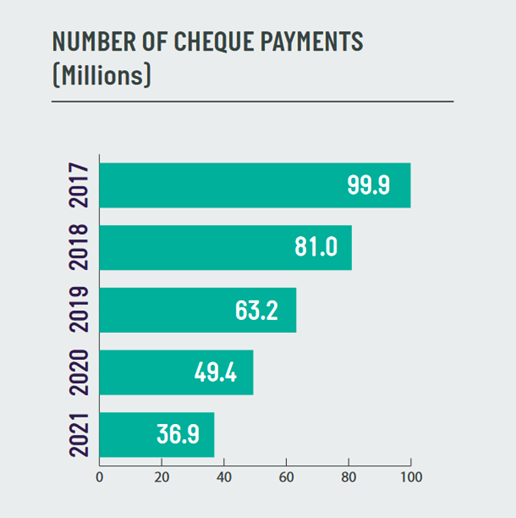 Source: RBA Payment Statistics
Charities leave cheques behind, BPAY a new choice
Charities have traditionally received millions of dollars in donations via cheques, particularly from older Australians.
Fundraising Institute of Australia (FIA) member data from 2019 showed that up to approximately 30% of fundraising revenue was received via cheques. The FIA wants to maintain cheques as a payment method although the pandemic has also encouraged older Australians to adopt digital payment methods.
More than three-quarters (77%) of Australians aged 65 and over were using online banking at June 2020 compared to slightly more than half (59%) just three years earlier, according to ACMA[3].
AusPayNet continues to work with industry bodies, including the not-for-profit sector and government, to increase awareness of the decline in cheques and of payment alternatives.
Meanwhile, some charities are now adding BPAY as a payment method, such as Rural Aid or Save the Children.
It allows the payer to confirm who they are paying at the time of payment, while the charity can issue the payer with a unique "Donor Number" as their reference.
"This makes it easy to reconcile the payment when it's received, and they know who to send the tax receipt to," says BPAY Group Managing Director Kim Tyler.
"Donors can also set up recurring payments using the same reference, while funds are received the next business banking day by the charity – they don't need to wait for the cheque to clear."
Property settlements go electronic
Another key reason for the rapid decline of cheques has been the adoption of e-conveyancing when buying a property.
Property settlement once required the buyer to hand over a bank cheque in exchange for the documents required to register them as the new property owner.
A PwC report commissioned on behalf of digital exchange PEXA estimated that up to five cheques were required per transfer and one additional cheque per discharge in 2015.
Now more than 80% of all property transfers and 95% of all refinances nationally are conducted over the digital PEXA exchange.
"The banks have enormous cost in creating and holding the cheque books," Halverson says. "Everything about them is wrong: printing paper, the time it takes to turn them around, the cashflow you lose, and the lack of information."
AusPayNet says it continues to monitor cheque usage into 2022, to ensure that current cheque users are not left behind as individual financial institutions ultimately make the decision that it is no longer a commercial decision to issue them.
[1] Future State of Payments Action Plan. Conclusions from AusPayNet's Consultation. August 2020. Retrieved from https://www.auspaynet.com.au/sites/default/files/2020-08/APN_Future_State_Conclusions_Consultation_Paper_Aug20_0.pdf
[2] The Ongoing Decline of the Cheque System | Bulletin – June Quarter 2017. (2017). Reserve Bank of Australia. Retrieved from https://www.rba.gov.au/publications/bulletin/2017/jun/7.html#box-a
[3] The digital lives of younger and older Australians | ACMA. (2022, April 07). Retrieved from https://www.acma.gov.au/publications/2021-05/report/digital-lives-younger-and-older-australians
Source: BPAY Pty Ltd bpay.com.au (ABN 69 079 137 518).