Women in Payments Conference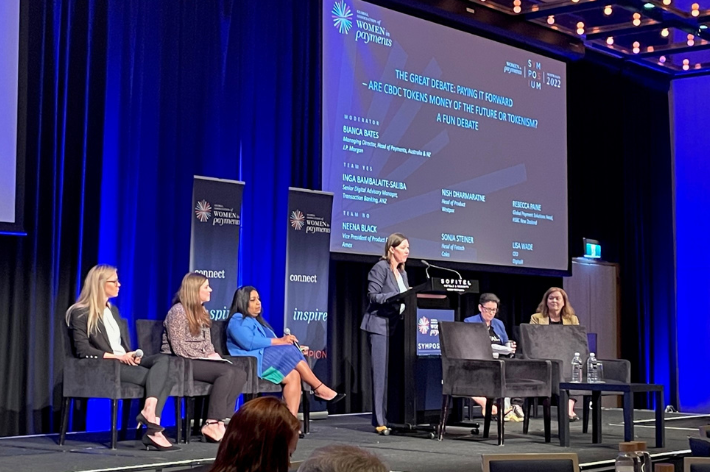 An exciting future for women in payments
Some of Indue's best and brightest attended this year's Women in Payments Symposium held on 23 and 24 November 2022 to hear from female leaders about trends, issues, and evolutions in the finance sector.
This year's Symposium theme was 'Paying it Forward Together', and discussions explored a range of subjects, from the importance of mentorship in training future generations of female leaders, to diversifying culture in the workplace, embracing digital identity in the metaverse, and tackling cybercrime through global collaboration and innovation.
Some of the key takeaways for the team included:
How to develop a strong culture of female leadership and performance
Seeking out diverse perspectives and maintaining global networks is important to maintain a competitive edge in the increasingly saturated marketplace.
Organisations can create a culture of high-performance by promoting trust among colleagues, forming teams with diversity of lived experience and breaking the mould of conventional leadership.
We must embrace curiosity, challenge ourselves to push boundaries and take on board new learning opportunities to future proof skillsets in the quick-changing finance sector.
Balancing financial security and customer experience
The pandemic has increased our reliance on systems of digital payment and technology.
Companies in the payments sector need to negotiate a balance between making online banking more user-friendly without leaving it vulnerable to hacks.
Behavioural biometrics technology, artificial intelligence programs and collaboration among global forces are key defences against cybercrime.
The evolving Australian payment system
Australia is on the cusp of major transformational change with the current regulatory framework being overhauled.
Innovation is occurring at a rapid pace, which is seeing fast and nimble payment solutions such as PayID and PayTo gain popularity.
Meeting the challenges of innovation
The industry is constantly working to deliver better payments experiences and outcomes for customers, which sit at the core of the banking world, and Australia is leading the world on innovation.
Change can be large or small, but organisations must remain agile and look for opportunities to develop their offerings.
Innovation takes time and patience to scale up and see its impact, as building the governance and supporting structures for new schemes is a lengthy process.
The growing value of CBDCs
Central Bank Digital Currency (CBDC) tokens are becoming increasingly prevalent and will continue to shape the future of modern payments – 90% of banks have adopted some sort of CBDC program.
Remaining agile and responding to consumer demand will be integral to the success of CBDCs.
Management of CBDCs should be governed by the values of our countries, and decentralised providers cannot manage our economy.
Embracing the metaverse
The metaverse endorses a community and creator economy – giving power to content creators to own their own assets.
Web 3.0 and Metaverse are likely to see regulated consumer-based protection from data compromise and the resulting security issues impacting individuals.
Companies involved need to have consumers and consumer value, as well as broader community values, at the heart of what they do.
The metaverse has great potential, but it needs more regulation and transparency to gain trust among consumers.