Meet Head of Innovation – Jennifer Osborne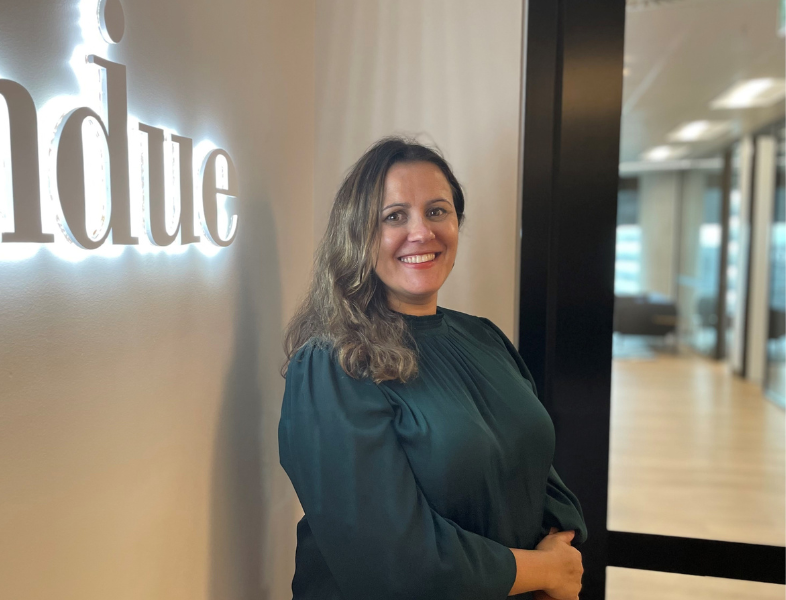 We sat down with our recently appointed Head of Innovation Jennifer Osborne for an insightful interview about her new role, Indue's future, and the payments industry at large. Read what she had to say below.
WHY DO YOU THINK INDUE HAS INTRODUCED THIS ROLE?
Innovation is intrinsically linked to growth and business value, making it an essential ability amidst the disruption and change facing the payments sector today. To meet Indue's core purpose of helping our customers drive their own competitive advantage, it's essential we keep our product offering strong by staying on top of what's in the pipeline. I believe Indue introduced this role as a way of continuing to meet our customer's needs by bringing the wider community together to leverage knowledge and drive opportunity.
HOW HAS YOUR BACKGROUND PREPARED YOU FOR THIS ROLE?
I have worked across a variety of industries in my career, including financial services. That means I am coming to this role with an established understanding of the breadth and scale of the challenges that a lot of our customers face. From customer experience and operations to strategic portfolio delivery, I understand the banking lifecycle. I think my deep customer knowledge will set the tone for what I do in the innovation space at Indue. The customer always has and always will be at the core of our work.
WHAT IS YOUR VISION FOR THE ROLE?
As I mentioned, there is huge disruption and opportunity in our industry. My vision for the role is that we provide insights and guidance on evolving opportunities, driving a purposeful, customer-centric roadmap of innovative change through collaboration with our community.
SPEAKING OF OPPORTUNITY, WHAT DO YOU BELIEVE IS THE MOST NOTEABLE POSSIBILITY FOR INNOVATION IN THE PAYMENTS, FINANCIAL SERVICES, AND BANKING SECTOR?
There has been, and continues to be, a strong emphasis on digitisation and operational efficiencies. People these days are time poor and generally more impatient, meaning we have the opportunity to streamline and improve customer experiences.
CONVERSLEY, WHAT DO YOU THINK THE MOST SIGNIFICANT CHALLENGES TO INNOVATION IN THIS SECTOR ARE?
For the financial services and payments sector particularly, I think we're seeing a significant change of pace and increasing cost of doing business. Customers are more informed now, demanding a different proposition. Data and security are front of mind, posing the difficulty of digitising services while keeping them exceptionally safe. At the same time, services need to remain easy to understand and adopt, as well as cost-efficient. It's all a balancing act. 
WHAT ARE THE THREE MAIN AREAS YOU INTEND TO FOCUS ON IN THIS ROLE OVER THE NEXT 12 MONTHS?
I think my focus areas can be summarised as three questions:
What is the market doing?
What are our customers trying to achieve?
What opportunities exist to help them succeed?
Essentially, I hope to provide market insights and thought leadership at an aggregate level, understanding our customers challenges and delivering on the opportunities out there.
HOW DO YOU FORSEE INNOVATION ALIGING WITH AND CONTRIBUTING TO POSITVE SOCIAL AND ENVIRONMENTAL IMPACTS AT INDUE?
Change is inevitable, we just need to ensure it's for the good of our people and our planet. Innovation and disruption are therefore required. I see Indue's work aligning with that – we're very conscious of and committed to ESG. We serve our diverse customers and communities through a variety of sustainable and social innovations, for example through our environmentally friendly bank cards and our accessibility offerings for visually impaired end-users.
WHERE DO YOU HOPE TO SEE INDUE IN 5 YEARS TIME?
There is so much knowledge and passion across us and our customers that the future is extremely exciting. We're keen to grow and consolidate loyal partnerships with our customers, cultivating a highly connected community who maximise and optimise, together. Through our focus on and commitment to our customer's purpose, I hope we continue to prove ourselves as the provider of choice.
DESCRIBE WHAT INNOVATION MEANS TO YOU.
The age-old question… innovation means different things to different people! For me, it's about bringing renewed focus to optimise strategies. That might be through small incremental changes or more disruptive means, but either way it will deliver value in a customer-centric and sustainable way.